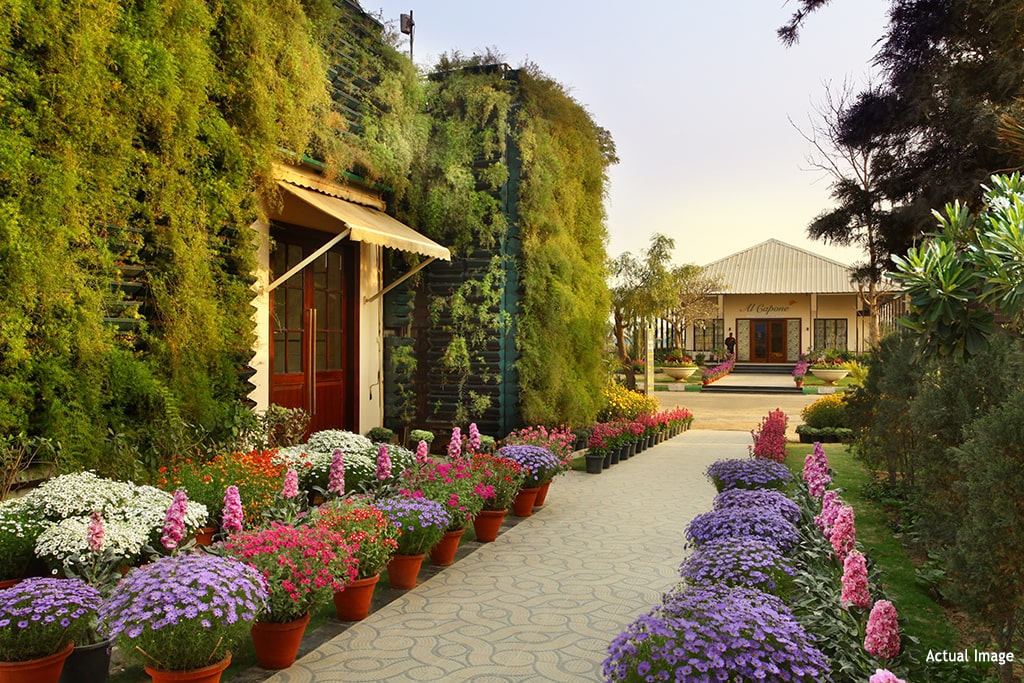 Central Park Flower Valley is the most sought-after upcoming landmark in South of Gurugram. The global premium township offers various assets, namely Cerise Floors, Flamingo Floors, Mikasa Plots, Fleur Villas, Aqua Front Towers & The Room, that cater to the requirements of potential homeowners. Aesthetically designed and adorned with flora and fauna, Central Park Flower Valley offers beauty, serenity and top-notch conveniences to top it all off. Here are 10 topmost things you will enjoy at possession, at Central Park Flower Valley:
Widespread flora and fauna
The sprawling greenery & colourful flower lanes welcome you the moment you enter the township.Be sure to get encapsulated by the freshness throughout the premises of the luxury mansions. You can enjoy the view of nature right from your balcony or step outside for a refreshing walk. As the name suggests, every nook and corner of the township is surrounded by greenery and peace.
Wellness Features
The owners are entitled to 45 wellness features, which are offered along with buying a home at Central Park Flower Valley. These wellness features comprise of activities that strike a perfect balance between the mind, body and soul. Right from sports activities, gym, spa-centre, reflexology and yoga, to an all-weather swimming pool, naturopathy, sauna, diet sessions, doctor-on-call, etc. are some of the many features that are bound to enhance your experience of luxury modern homes living.
Children's Amusement Park
One of the key highlights of the township is the Children's Amusement Park that is equipped with a special aqua park accounting for perfect leisure time for children. The Amusement Park, spread across 2 acres, is one of the amenities that can be enjoyed even before you move-in. It is, indeed, an area that children are bound to fall in love with.
Fine Dining Restaurant
Al-Capone is the multi-cuisine restaurant that offers sumptuous delicacies and a mesmerizing view of the Flora Fountain, that is not only a treat to the stomach but also a treat to the eyes. You can relish a meal with your family & friends even before you move-in.
Exotic Foot Spa
Relax your tired feet with a comforting massage at the ready-to-experience Foot Spa. It is sure to rejuvenate your senses and soothe your tensions away. Indulging in a massage after a long tiring day seems so comforting. Right?
Picturesque Flora Fountain
Imagine sitting beside the Flora Fountain, which overlooks the vast greenery and witnessing a fascinating view of the sunset against the backdrop of the Aravallis, making it the perfect selfie-point!
Concierge & Housekeeping
Avail the housekeeping, laundry & concierge services from the comfort of your home. Wouldn't it be so nice to simply call someone for assistance, or request for laundry services while you enjoy a hassle-free stay! At Central Park you can surely depend on us for the chores!
Sports Activities
Indulge in sports and recreational activities with premium academies and courts within the township. These sports include Golf Putting, Cricket Nets, Lawn Tennis, Basketball, Badminton, Swimming etc. Keep fit, learn a sport or challenge your friends for a game, the choice is all yours!
No more traffic woes
The upcoming elevated flyway seamlessly connects Flower Valley (Sohna) to Central Park Resorts (Sector 48, Gurugram), reducing the travel time to a mere 15-20 minutes. This adds to overall convenience and ensures a smooth flow of traffic, reducing the time taken to commute.
Central Park Flower Valley dutifully takes care of every minute customer detail and caters to their requirements with utmost priority. We reassure the customers of making the right choice, as here, you will be pampered and spoiled for infinite choices.