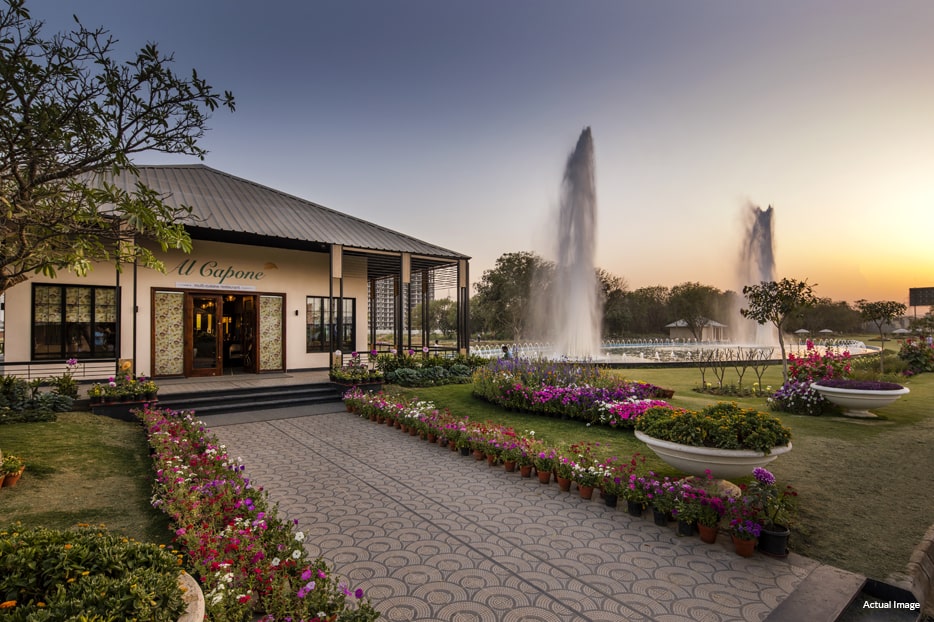 Liveability is defined as the sum of the factors that add up to a community's quality of life—including the built and natural environment, economic prosperity, social stability and equity, educational opportunity, cultural, entertainment & recreation possibilities. Here are a few factors that enhance liveability.
Identity & Culture
Central Park Flower Valley is a premium global township nestled in the backdrop of Aravallis comprising of various refined residential asset classes amidst lush greenery, exquisite flora and water bodies. Development work at Central Park Flower Valley is at full swing while many amenities are ready to be experienced. Al Capone- a multi-cuisine restaurant, Foot Spa, Children's Park & Flora Fountain are fully operational. The township proposes to offer many firsts such as 9 World Class Academies, Swimming, Fitness, Acting, Dance, Yoga, Golf, Lawn Tennis, Cricket & Badminton. Also proposed are club facilities that include a Squash Court, Billiards/Snooker, Table Tennis,Juice Bar, Lobby Lounge, Multi-Purpose Hall, Specialty Restaurant, Reading Room, Cards Room, Guest Rooms, Swimming Pools, Mini Theater, Bakery Shop, Florist, Spa, Gym, Salon, Business Centre, Candy Bar and Disco.
Education & Health
Liveability is enhanced with prime educational institutions & hospitals operational in the vicinity. Central Park Flower Valley is surrounded by renowned institutions assuring parents a good education for their children, without the need of travelling very far. Hospitals near Flower Valley also ensure premium healthcare & treatment.
Safety & Security
Safety is a primary necessity in today's times and safe and sound surroundings are a fantastic way to assure the prospective buyer of their safety. Flower Valley luxury apartments have 3 Tier Security with CCTVs, Access Cards and 24*7 Security Guards all throughout the township.
Economy & Employment
Employment opportunities in the vicinity become a massive boon for the prospective customers as well as the builders as nothing matches the comfort of staying in a good locality near your workplace. Sohna's proximity to both the service sector's evolving hubs of Sohna Road and Golf Course Extension Road coupled with the presence of the Industrial Belt of Manesar/Bhiwadi makes it an attractive location going forward, from an employment perspective.
Housing & Inclusiveness
With 837.57 acres of current & upcoming projects, 9000- 10000 of them in residential group housing alone, Sohna has many players offering various product formats.
For Price sensitive, young working professionals, Sohna provides the opportunity to plan a house in a strategic location that suits their future plans and current budget requirements. It offers buyers a chance to enter in the real estate market of Gurgaon, which is currently at a weighted average entry price of paying as low as INR 12 lac as a booking amount for a Flamingo Floor, for example.
Location & Accessibility
Wouldn't it be ideal to have all the necessary locations near your residence? Flower Valley is a perfect abode, with the nearest Railway Station being only 45 minutes, 27 km away, the IGI Airport 48 minutes, 39 Km away. Alongside this, Huda City Centre – the nearest metro station is 26 km away. IMT Sohna – the industrial model township, Cyber City & Sohna Road office hub is 6 km, 32 km & 15 km away, respectively.
Mixed land Use & Greenery
In the polluted and populated India of today, everyone hopes to be around greenery when opting for a luxury house of their choice. Open expansive gardens, flower lanes, water bodies, play areas, walking/jogging tracks; and green open spaces dot the landscape of Central Park Flower Valley. A mix of plots, low rise, midrise, group housing and commercial (retail & office)are all presenting the global, premium integrated township.
Reduced Pollution
City pollution is not only bothersome but hazardous for health. While we cannot avoid it altogether, it is good to minimize its effect. Flower Valley residential apartments aim to reduce the pollution by planting an abundance of trees & flowers right through the township.
It is proposed that the group housing may also introduce the concept of 'Zero' Vehicles on Ground Surface' leading to lowering of traffic, air and noise pollution.