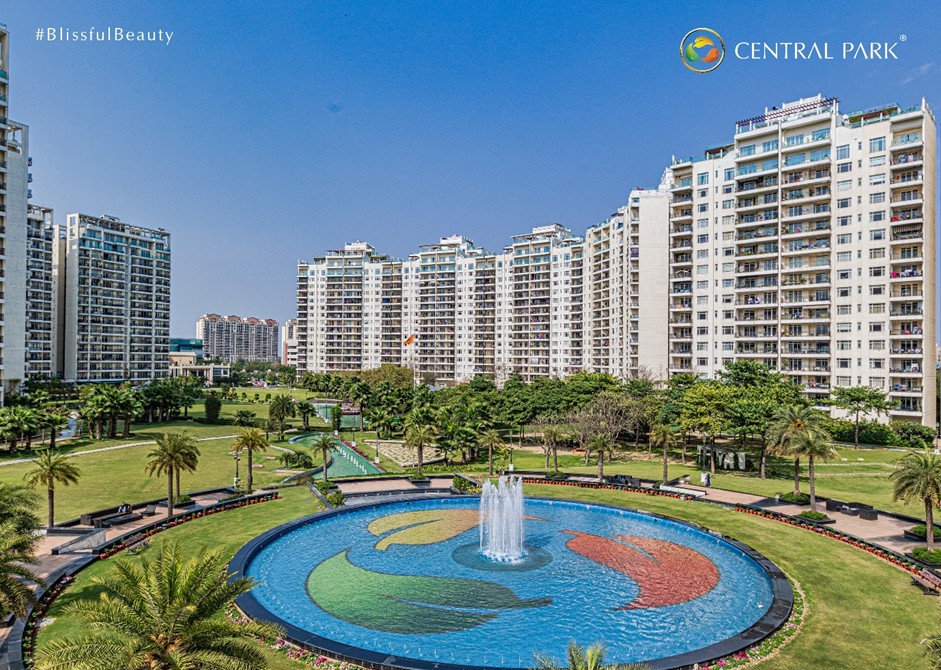 The need for luxury living is more than just moving to a brand-new home with four walls and a garden view. In true essence, it is about a paradigm shift in the way you live the one life you got. Inspired by the ever-growing demand for luxurious and unconventional lifestyles, Central Park has come up with state-of-the-art luxury housing societies in the heart of Gurugram. With stunning interiors, expansive views, and homes that are smart, Central Park Resorts are a class-apart with extravagant spaces for the new age crowd.
If there is anything that the last pandemic has taught us about how we should live, it is the need to curate spaces which feel more like an enriching experience rather than confinement. A deep dive into the real estate sector highlights the need for luxury residences in the Delhi NCR . In fact, the results are decidedly mixed, with 67% of HNIs wanting to live in a luxury residence in 2022-2024. Central Park Resorts is located in sector 48 which is just 20km away from IGI airport. Another location advantage is its close proximity to Golf Course Road, which happens to be just 10 km away from here. It is 3 km away from Rajiv Chowk and has premium schools, colleges and hospitals in close vicinity.
Central Park Resorts is the amalgamation of extravagant living and superior hospitality. We understand the need for luxury homes that will redefine the concept of dwelling in Gurugram. Designed keeping in mind the requirements of the discerning few, Central Park Resorts provides a place for more than just living.
Central Park Resorts consist of luxury residential projects which are as follows
Sky Villas :
Our ultra-luxurious penthouses transcend all conventional notions of living. These luxury mansions are located on the 16th floor above our majestic structures. Being the epitome of high-end luxury living, our multi-level penthouses exude class and sophistication. Sky Villas are fully furnished and carefully designed to rise up to the occasion. These beautifully crafted 4 BHK villa penthouses are tailor-made to reflect your splendour and aesthetics. It comprises 9 levels of luxury that set them apart from other penthouses in Gurugram. With abundant state-of-the-art amenities, living here is analogous to staying at a 7-star hotel
Bellavista
These are fully furnished and fully serviced premium spaces. Being a one-bed and studio residence Bellavista is crafted in Japanese style and exuberates culture and sophistication. With luxe interior, expansive views and top-notch hospitality, it is set to become your ideal suite preference for years to come. Spread over 20 acres of lush green area, these studio apartments offer alternate floor sky chambers with 24×7 hospitality services. The tranquillity these residences offer is unmatched and highly desirable, especially for those who want to escape the hustle and bustle of everyday life. The Executive Lounge is designed to captivate with its intricate design inspired by Japanese architecture. The restaurants in the vicinity are also inspired by authentic Japanese cuisine, with Japanese-themed interiors & crockery/cutlery. The amenities that Bellavista has to offer are next to none, crafted especially for our refined residents. These include 3-Tier Security with 24×7 CCTV, an air purification system in each apartment, concierge service, a helipad on top of the tower, smart homes, air-conditioned lobby, light fixtures, chandelier and artwork, and Wi-Fi connectivity everywhere including the lobby.
Belgravia Residences
Being one of the most precious gems of Central Park Resorts, the Belgravia Residences are highly sought after due to their location advantage and luxurious spaces. Just like its sister residences, it is in close proximity to premium schools, institutions and hospitals. These resorts offer 5-star hospitality services with amenities such as sports and recreational avenues, housekeeping, laundry, car wash and more. It also offers splendid views of over 20 acres of lush greens. You also get comprehensive food choices, with multi-cuisine food options and speciality cuisine restaurants and water bodies at a stone's throw. Its luxuries also include a dedicated badminton court, magnificent gardens, ample open spaces, terrific clubhouses, a fully equipped jogging track, and of course, a swimming pool.
Beau Villas
These villa-style apartments are located in Sector 48 in the prime location of Gurugram. These are set at the ground level of Central Park Resorts with striking ceiling height and come with 3-tier 24×7 security, just like all our projects. They are garden-facing and augment your experience by bringing you close to greens. Each Beau Vila opens up to a different side of the lush green spread of the area. The interiors exude the sophistication and elegance of neo-classic design, imparting a timeless vibe. At the same time, the designs are balanced out with a contemporary approach to furnishing and styling. These residences are ready to move in and fully furnished, with premium speciality and multi-cuisine restaurants in the vicinity. While you're here, indulge in the unmatched hospitality of Beau Villas which includes: aroma baths, foot spa, naturotherapy, head massage, reflexology, body massage, steam and sauna chambers, jacuzzi, herbal pars, basketball court, golf greens, 5 star drop off points, amusement park, cycling tracks and much more.
At Central Park Resorts, you get a unique experience of luxury living. Our homes are embellished with unexcelled amenities and features, which make your stay a memorable one. Best-in-class infrastructure and exclusive privileges set us apart from other luxury residential properties. We go the extra mile to provide you with a homely feeling with top-tier luxuries. A 7-star life with the warmth of a home is now a reality with Central Park Resorts.
---