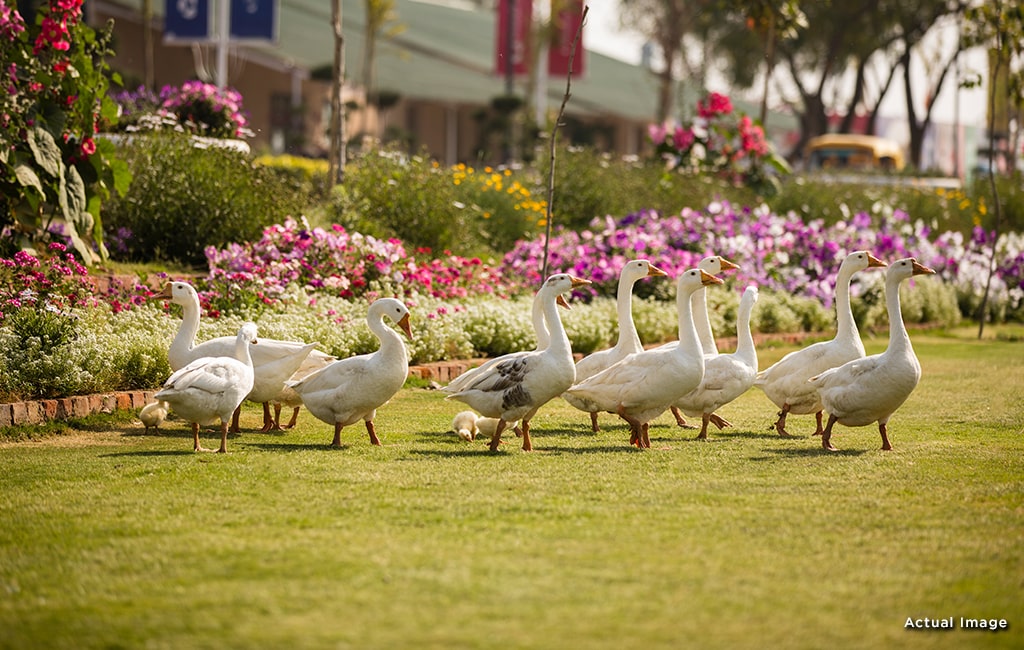 Imagine a township with lush greenery, exquisite flora and water bodies, adorned with thousands of trees and multiple flower lanes. Imagine enjoying spring throughout the year, in the vicinity of the Aravallis. Imagine living away from the chaos of the city crowd but still being close enough to access it within 10-15 mins. Combine these serene surroundings with every modern amenity that one is used to when living in a city, available right within and around the township itself.
The description sounds like a dream, doesn't it? Well, this isn't just from my imagination! I was lucky enough to experience it first-hand when we visited Flower Valley by Central Park. I was spellbound at seeing the abundant greenery and the positivity it garnered the moment I stepped in. Driving on Sohna road, it took me about 20 minutes from Central Park Resorts (near Subhash Chowk). I was also told that the 22.5km elevated corridor is being constructed on Sohna Road, which will reduce the travel time from Rajiv Chowk at NH8 to about 10 mins. It was, in fact, after visiting Central Park Resorts that I thought of visiting Flower Valley since it was such an eye-opener in the first place. I was greeted by a grand entry gate and as I entered Flower Valley, a mesmerizing view of a Flora Fountain made me feel more than welcome. A raft of ducks swimming in fresh water of the Flora Fountain was a treat to watch. The sound of house sparrows murmuring above and the melodious voice of koyal birds perched on one of the branches captured my heart and made me feel like I was surprisingly miles and miles away from the city. As I progressed around the property, I could already envision my future, living at a location as admirable as this – from thinking of the peaceful surroundings, to thinking about how much my children's eyes would light up when they saw the amusement area spread across 2 acres.
I was very impressed by the carefully planned world-class amenities and modern home options, which reassured by decision to potentially own a home at Central Park Flower Valley. It was like a bonanza for me – nature, modern amenities, connectivity and the thought of a lovely community for my children to grow in, all coming together – at this point I did not have to think twice. Finally, a month after this visit, I bought a Cerise Suite with a Party Terrace. I am genuinely excited to become a resident and end up making a visit every now and then before I ultimately move in. My spouse and I make it a point to go for a sumptuous meal at the multi-cuisine restaurant within Central Park Flower Valley, where we enjoy the tranquil surroundings and eagerly wait and think about shifting into our future home.
Source : Tumblr